Overview
Ti Systems SA provide the tyFlate Control System as well as market leading compressors
The tyFlate controls and simplifies the deflation and inflation of tyres dramatically. The systems is purely mechanical and involves no electronics, thus being rugged, reliable, and suited for any conditions or terrain. The operation is specifically designed to simplify the inflation and deflation process, such that it actually becomes a feature to use it.
Due to the patented tyre valves and control unit, the deflation times are impressively short. Inflation speed depends on the compressor used. Although the run of the mill compressor will work as well, the inflation times achieved are mostly not impressive. We thus stock compressors that have a long standing track record in the military environment and have market leading performance.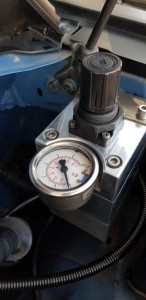 tyFlate
The most difficult part about inflating or deflation your tyres with our tyFlate system is
getting in and out of your vehicle…..!!
tyFlate Inflation System
The tyFlate Control System regulates the deflation and inflation of your tyres. The whole system consists of a fixed installed pipe harness, with retractable or removable hoses on the wheel arches, special patented quick release, high air-flow tyre valves and the tyFlate Control Unit. A portable or permanently installed compressor is also required for the inflation of the tyres.
Deflation of all four tyres simultaneously is a simple and convenient process of setting the required pressure on the tyFlate Control Unit, connecting the tyres and wait for the process to finish, normally within 2 minutes.
Inflation of all four tyres simultaneous is the same simple process, plus switching on the compressor to provide the air.
Components:
tyFlate Control Unit
Patented tyre Valves
Permanent installed pipe harness
Air Compressor (optional, can use own compressor)
12V Compressors
Our range of high end 12V air compressors. These compressors are being used extensively for inflation of tyres in emergency vehicles, trucks, 4×4, etc. around the globe. These are rugged, high duty cycle compressors that deliver the highest  capacity air in their class and price range. See our blog for inflation comparison data.
12V Single Cylinder Air Compressor
Durable, high duty cycle compressor
This heavy duty portable compressor is rugged enough to be used in the military environment.
The large electric motor and compressor ensure effortless inflation and a high duty cycle, avoiding cool down interruptions.
Specifications:
Power: 12V DC
Max pressure: 8 Bar
Power consumption: 450 Watt
Air intake: 100 l/min
Size: 25x14x19 cm
Weight: 6 kg:
dB: 72
Automatic thermal protection
1 year manufacturer warrantee
12V Boxer Twin Cylinder Air Compressor
225 l/min twin cylinder boxer compressor
This heavy duty compressor is used extensively in the military environment. The large electric motor and compressor ensure quick inflation and high duty cycle.
Specifications:
Power; 12VDC
Max pressure: 10 Bar
Power Consumption: 600 Watt
Air Intake: 225 l/min
Size: 32x22x14cm
Weight: 8 kg
dB: 52
Automatic thermal protection
1 year manufacutre's warrantee
Portable 12V Single Cylinder Air Compressor
Durable, high duty cycle compressor
This is the portable version of the single cylinder compressor, build into a rugged plastic housing, with an adjustable regulator to regulate the ouput pressure, a gauge and a pressure release valve to ensure over inflation cannot occur.
Specifications:
Power: 12V DC, Power cable with battery claws
Max pressure: 8 Bar
Power consumption: 450 Watt
Air intake: 100 l/min
Size: 25x14x19 cm
Weight: 6 kg:
dB: 72
Automatic thermal protection
Regulator
Gauge
Pressure release safety valve
1 year manufacturer warrantee